Lodging at the footholds of Mount Hakuba MOTOI. We urge you to surround yourself with the untouched nature of Hakuba Ochikura High Hills, and enjoy a vacation that would soothe your senses to the core.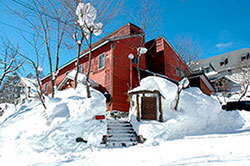 You can slide back from Tsugaike-Kogen ski slope.

●There are many good outdoor hot springs in the place of 5 minutes to 10 minutes by car.
●In the winterTsugaike, Iwatake, Hakuba-happo, Hakubacortina, Skiing and snowboarding in the world of snow.
 Snowshoe courses are also spreading around the lodge.
●This lodge MOTOI does not introduce reservation agency business reservation site and transaction with travel agency at all.
 Here is the accommodation that put the value on encounter with individual customers.

NEWS:The owner's ski slope guide《Iwatake, Tsugaike, Cortina, Hakuba-Norikura》is OK.Try to ask!